Gentemen Farmers
Sir Hugh Montagu Allan C.V.O. (1860-1951)

Owner of the Allan Steamship Lines, he bought Sir G.A. Drummond's house and farm in 1912 and renamed them "Allancroft" and "Allancroft Dairy Farm". He never lived in the house. It was vandalized and burnt down in 1938. He gave his Montreal Mansion "Ravenscrag" to the Royal Victoria Hospital in 1943.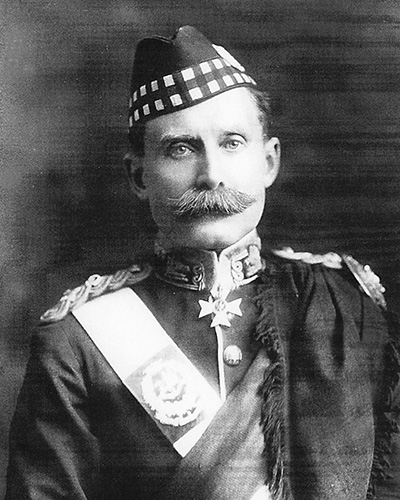 Robert Alexander Campbell

Robert Alexander Campbell (1893-1976)

Born in Uxbridge Ontario, Robert Alexander Campbell came to Montreal and joined The Canada Steamship Lines. R. A. Campbell started work in Toronto and moved to Montreal in his early 20's to work for Canada Steamship Lines where he met his wife to be, Louisa Mary Warraker.

He joined the Royal Naval Air Service during WWI and became a sub-lieutenant and flew scouting operations over France and held the longest continuous flight record. His plane crashed over England and he recovered in the Lake District. He returned to Canada and married in 1920.

During WWII as a principle figure in several Montreal based shipping companies, he refitted one of his lake carriers to join the convoys loaded with food going to England. That ship was torpedoed during the first voyage. He organized and led The Mobile Force, a non-military group of citizens who were unable to join the regular armed forces because of age or physical condition, to defend the home-front communities.

In 1947, he bought the south part of Sam Lichtenhein's gentleman farm 13 in Beaconsfield and moved his family there to return to his rural roots. "Cambell's Farm" was one of the last producing farms until 1966, when the property was re-zoned as residential.

The Honorable Sir George A. Drummond

The Honorable Sir George A. Drummond, K.C.M.G., C.V.O. (1829-1910)





Born in Scotland, he came to Canada in 1854 to manage the Redpath Sugar Refinery. He is founder of the Canada Sugar Refining Plant, president of the Bank of Montreal … He bought in 1902 in Beaconsfield and built "Huntlywood", his 32-room mansion, and a model farm.

Samuel "Sam" Edward Lichtenhein

Samuel "Sam" Edward Lichtenhein (1870 – 1936)

Sam Lichtenhein is known as a businessman and sports executive as he was the owner and president of the Montreal Wanderers ice hockey team and the owner of the Montreal Royals baseball team. He also acquired a gentleman's farm in Beaconsfield in 1908 and was in league with the Drummonds, J.L. Perron and others living west of Station Road to exchange land towards the rear of their properties for the new Beaconsfield Boulevard and to get title to the public lakeside land where the Lakeshore Road was. He kept the farm after acquiring the old road section across Farm 13 until his death. The iron fence along the Boulevard that originally came from his Dorchester Boulevard property slowly disappeared before the property was sold to R. A. Campbell in 1947.

Joseph Léonide Perron, K.C., M.L.C. (1872-1930)


A lawyer, Joseph Léonide Perron purchased farm #18 in 1906 and he built a summer residence and a model farm. He became the first mayor of Beaconsfield (1910-1916). He was a provincial liberal candidate; K.C. in 1903, Minister of Roads in 1921 and of agriculture. His model farm had a vineyard, raised horses and domestic animals.
He lost his municipal election in 1916 because of the the relocation of the old Lakeshore road and the construction of Beaconsfield Blvd which had not been accepted by everyone. It won't be till 1928 that there would be closure.