Past Lectures
Lecture by Desmond Morton
Is There More We Should Remember (on Remembrance Day)?
Guest Speaker: Desmond Morton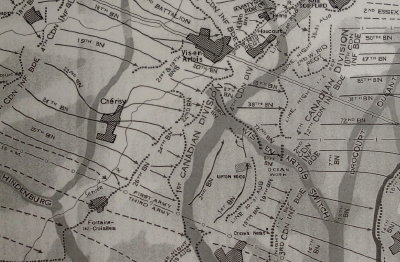 When: Thursday, March 16, 2017, from 19:30 to 21:00
Where: Centennial Hall
288 Beaconsfield Blvd, Beaconsfield, H9W 4A4
Lecture in English.
150 years after Confederation, the myth of Two Solitudes engages and haunts us. What does the historical record teach us about this myth, e.g. regarding Quebec and Canada in the Great War?
Desmond Dillon Paul Morton OC CD FRSC (Calgary 1937- ) is a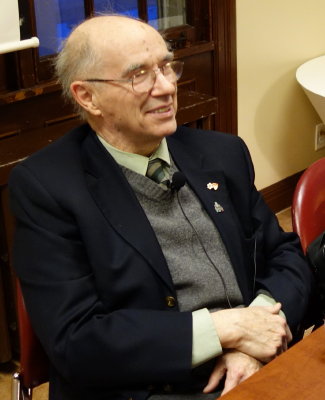 Canadian historian who specializes in the history of the Canadian military, as well as the history of Canadian political and industrial relations. He is the author of over thirty-five books on Canada, including the popular A Short History of Canada.

In 1996, he was made an Officer of the Order of Canada. He has been a Fellow of the Royal Society of Canada since 1985.
Son and grandson of militaries, he is a graduate of the Collège militaire royal de St-Jean, the Royal Military College of Canada, a Rhodes Scholar, the University of Oxford (where he received his PhD), and the London School of Economics. He spent ten years in the Canadian Army (1954–1964 retiring as a Captain).
Later on, he began his teaching career and was Principal of Erindale College, University of Toronto, from 1986 to 1994.
Morton is the Hiram Mills professor emeritus of History at McGill University, as well as the past director of the McGill Institute for the Study of Canada, in Montreal, Quebec.
Morton once wrote: "For Canadians, Vimy Ridge was a nation building experience. For some, then and later, it symbolized the fact that the Great War was also Canada's war of independence".
Source: Article Desmond Morton (historian) from English Wikipedia Consulted on 2017-02-06
REMEMBERING SCOTLAND'S CONTRIBUTION TO MONTREAL
ON THE OCCASION OF ITS 375th ANNIVERSARY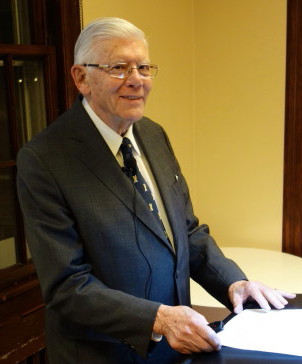 Guest Speaker: Rev. J.S.S. Armour, D.D.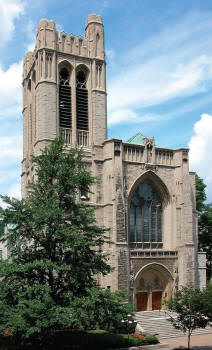 When: Thursday, February 16, 2017, from 19.30 to 21:00
Where: Centennial Hall
288 Beaconsfield Blvd, Beaconsfield, H9W 4A4

Lecture in English followed by question time also in English
Dr. Armour is minister emeritus of The Church of St. Andrew and St. Paul on Sherbrooke Street - offspring congregations of the original Scotch Kirk on St. Gabriel's Street, founded in 1792. Just to step outside his former church (incidentally the regimental church of The Black Watch (Royal Highland Regiment) of Canada) is to learn something of the Scottish contribution to the city of Montreal. To the west, Mackay Street named for Donald Mackay, an early fur trader; and Simpson Street, named for Sir George Simpson, governor of the Hudson Bay Company. The church is on Redpath Street, which once led to the home of sugar magnate John Redpath, whose son Peter gave to McGill the Redpath Museum and the Redpath Library. Amy Redpath lived across the street from the church in a gracious home with trees and green grass, now obliterated by the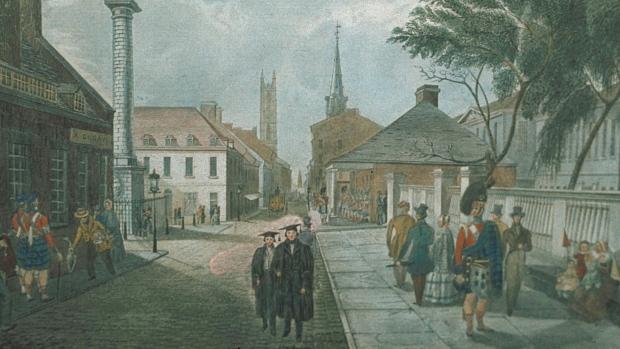 Port Royal. Amy gave the Roddick Gates at McGill, in memory of her husband, a Newfoundlan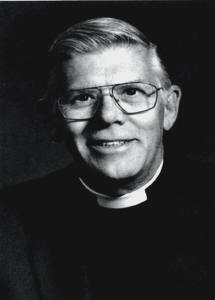 d Scot from Harbour Grace. To the east of the church, there is Drummond Street, named for John Redpath's wife, McTavish Street and Hutchison Street. And that's only the streets! Think of the institutions – Trafalgar School for Girls, The Museum of Fine Arts, Ogilvy's, the Montreal General, to say nothing of James McGill's university, made famous by another Scot, Sir William Dawson - its buildings given by men whose names were McLellan, Macdonald, Strathcona and Mount Stephen. And behind the church is the Golden Square Mile, once home to the wealth of the Dominion, largely peopled by Scots. Historians speak of the Anglo Ascendency – Scoto might be more accurate, as you will hear.
J.S.S. Armour holds degrees from the Universities of Toronto, Edinburgh, Memorial and Union Theological Seminary, New York City, as well as an honorary doctorate from Presbyterian College, Montreal. He is the author of three books and edited histories of the Royal Montreal Curling Club; Presbyterian College, Montreal; and the Dissenting Church of Christ in St. John's, Newfoundland. On retirement from St. Andrew and St. Paul in 2000, he wisely moved to Beaconsfield.
Montréal's three beginnings, Hochelaga, Tiohtiagi, and Ville-Marie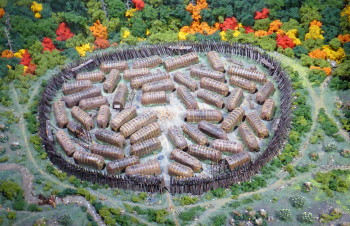 Guest Speaker: Roy Wright
When: Thursday 19 january 2017, from 19h30 to 21h
Where: Centennial Hall
288 Beaconsfield Blvd, Beaconsfield, H9W 4A4
Lecture in English followed by a bilingual question period.
As we celebrate 375 years since the founding of a permanent European settlement at Montréal, we would do well to recall the two previous occasions when French explorers remarked its significance for eventual future settlement, realized in 1642.
In 1535 Jacques Cartier visited Hochelaga, then as now a centre rivalling the downriver Stadacona settlement at what is now Quebec City. He described it as a community of some 1500 inhabitants surrounded by a palisade, and during his short visit was taken by its chief to the top of nearby Mt. Royal.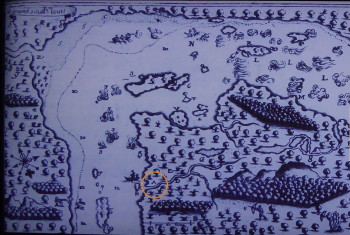 In 1609 and 1611, Samuel de Champlain visited the sites of today's Kahnawake and Montréal (marking the latter with an A on his 1612 map). Here he had to portage around "Sault Saint-Louis", the Lachine Rapids, noting their importance to the natives gathering to parlay and trade, the former diplomatic function commemorated in the Iroquoian name Tiohtiagi, and the latter commerce still a hallmark of Montréal's importance at the start of the St. Lawrence Seaway.
Finally in 1642, Paul de Chomedy de Maisonneuve, Jeanne Mance and about 50 French settlers started to build a community at the site marked 30 years earlier. The new fortified settlement was named Ville-Marie, in celebration of the religious vision of Sieur de Maisonneuve and Bishop Laval.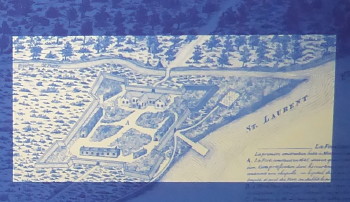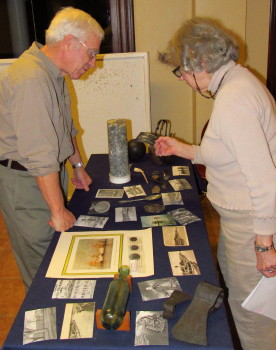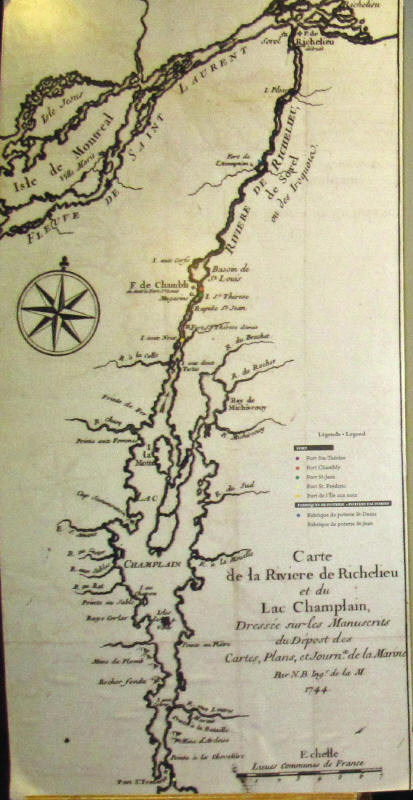 400 years – History of the Richelieu
From Warpath to Playground
Guest Speaker: Derek Grout
When: Thursday, November 17, 2016, from 19:30 to 21:00
Where: Centennial Hall,
288 Beaconsfield Blvd, Beaconsfield, H9W 4A4
Lecture in English followed by a bilingual question period.
Derek Grout will give a sneak preview of his latest book.
Quebec's Richelieu River, although just over a hundred kilometers in length, has played a critical role in the turbulent history of New France and the development of Canada. Join historian and author Derek Grout for his illustrated presentation From Warpath to Playground, as he traces the river's evolution over the past four centuries.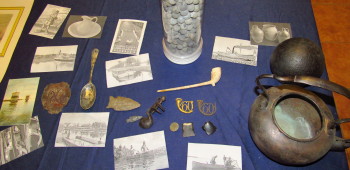 <<

Start

<

Prev

1

2 3 4 5 6 7 8 9 10 Next > End >>